Being back from the USS Arizona Memorial, I dropped in at the archives whose entrance read "The Road to War". My overall impression about the facility was that it was full of deception and hypocrisy. While I was inside, I got sick with anger. The wrath made me forget to take pictures at some point. I'll show you their deceits in the following several entries. Firstly, when and why was "The Road to War" paved. In the previous entry, I uploaded a picture of the panel which read that the U.S. had unwillingly gotten involved in World War II. That was also an example of their lies, though the U.S. and Japan didn't share any big issues to trigger the war in those days.
  The tour route got started with the explanation of the social condition of the year 1941, just before the attack. The panel read that Japan invaded the Chinese continent and headed for the U.S., but Japan was just a follower of the U.S. (From "Mirror of Americans: Japan" by Helen Mears) Did they forget that they invaded Hawaii?
  I was extremely dissatisfied with this section. They didn't tell about the Flying Tigers, which were sent from the U.S. to the Chinese Democratic Party. It was lots of up-to date fighters and skillful pilots to assist Chiang Chung-Cheng. It's obviously a violation of International laws for military personnel from other than countries directly concerned to engage in the battle.
  It's natural that war in general isn't good, but if it's conducted under laws, it's legal. The international law of war solemnly exists. War is only a means of diplomacy. The Flying Tigers violated the laws in time of war. What's more, FDR had already given the green light to the bombing plan against Japan before the Japanese attack on Pearl Harbor. The cutting-edge bombers, which were sent to China, were called Fortresses, however, they were fragile to zero fighters. As Churchill wanted those bombers and there were no zero fighters in Europe, the bombers were sent to Europe as a priority. That's why the bombing on Japan was not actually done. The war between Japan and the U.S. had already started before the attack on Pearl Harbor. If "The Road to War" was paved, it was more than 6 months before the attack. Why had Japan and the U.S. to fight each other? The racist, I mean FDR, hated Japan. This was a big factor, I think.
  Pictures show a model of a Japanese Aircraft Carrier, whose name I don't remember. It was made really elaborately, and this was the best item in the archives. When you talk about "The Road to War", there's nothing to be proud of from the U.S. side.
(Vocabulary)
archives  記録[公文書]保管所, 文書館
deception だますこと, 詐欺行為
hypocrisy 偽善, 偽善行為
deceit だますこと, うそ, 欺き, 詐欺
Chiang Chung-Cheng 蒋介石
アメリカの鏡 日本 
http://kumo.typepad.jp/weblog/2008/09/mirror-for-amer.html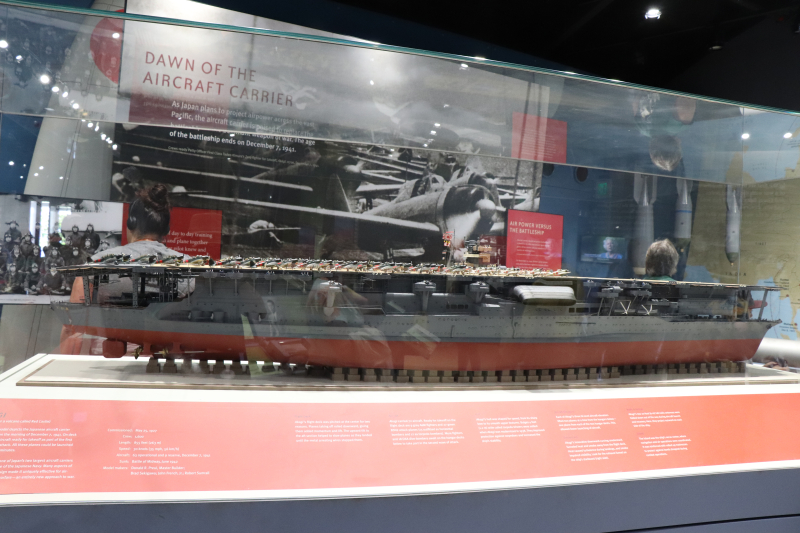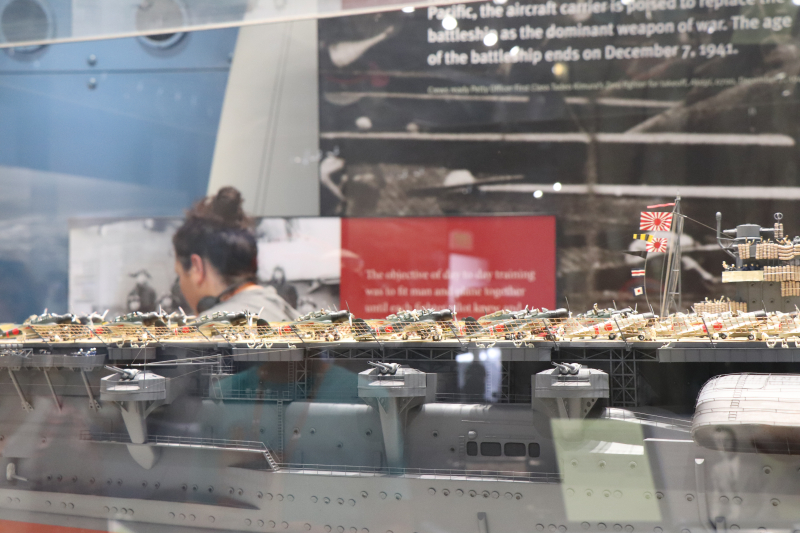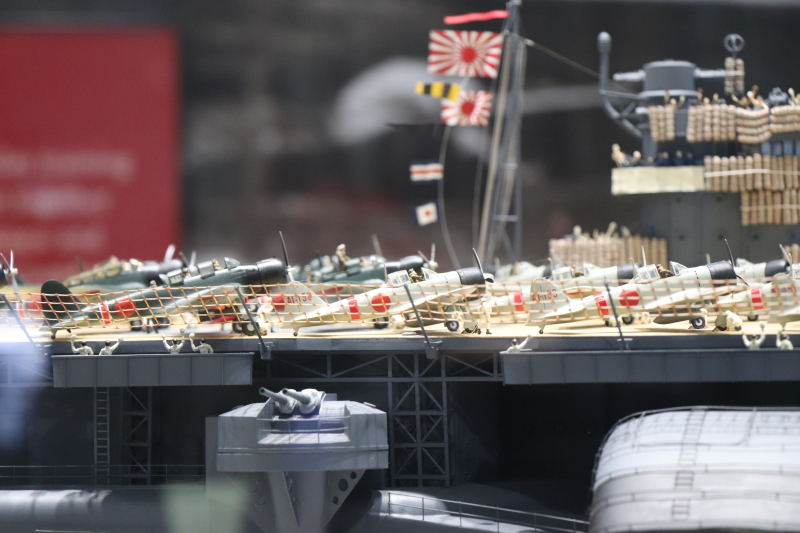 アリゾナ記念館からもどり、その入り口に『戦争への道』と書かれている建物の中に入ってみた。先に感想を書こう。『嘘』・『欺瞞』に満ちた展示内容だった。見ていて気分が悪くなった。腹も立ち、写真を撮ることを忘れ、あまり写真がないのだが、いくつか紹介する。まず、『戦争への道』がなぜ、いつ敷かれたのかと言うこと。先の記事で、日本軍の真珠湾攻撃がきっかけとなってアメリカは第2次世界大戦に「巻き込まれた」と嘘が書かれているパネルを紹介した。まるでアメリカが嫌々ながら戦争に突入したと言わんばかりに書かれていた。
 
この建物の展示は真珠湾攻撃の時代の社会状況の説明から始まっていた。日本がシナを侵略していて更にアメリカへもその矛先を向けたという流れだ。しかし、日本はアメリカがかつてやってきたことと同じことをしていただけだ。(Mirror of Americans: Japan)ハワイがなぜアメリカ領土となったのか、彼らは忘れたのだろうか?
 
さて、ここにフライングタイガースについての記述は一切無かった。日本と中国国民党(現在のシナではない)が戦っているとき、アメリカは国民党に最新鋭の戦闘機とベテランパイロットを送り、日本と戦わせていた。戦争当事国でない国の軍人が戦いに参加することは国際法に違反する。
 
戦争はよくない。当たり前である。ならば非合法かと言えば、実は合法なのである。国際法を守って行われる限り戦争は合法。戦争をするための法律があるくらいだから当たり前だ。外交交渉が破綻したときの先にある外交だ。フライングタイガースがこの法律に違反し、さらにフランクリン・ルーズベルト(FDR)は日本爆撃計画にゴーサインを出していた。この時点で日米の戦争は始まっていたとも言える。この爆撃機は空の要塞とまで呼ばれたが、零戦にはかなわないことが露呈し、一方でチャーチルが欲しがったため、日本爆撃よりもヨーロッパ戦線が重要との判断でイギリスに送られた。ヨーロッパ戦線にはゼロ戦がいないから。日米間の戦争は真珠湾攻撃よりもずっと前に実は始まっていたのである。『戦争への道』が敷かれたとすれば、それは真珠湾攻撃よりも半年以上前の話だ。ではなぜ、両国の間に懸案が無かったにも関わらず戦争をしなければならなかったのか。人種差別主義者のFDRが日本を嫌ったからということだろう。
 
写真は展示されていた日本海軍空母(名前は失念)が実に精巧に作られていたので感心して撮ったもの。この史料館で良かったのはこれらの模型だけである。『戦争への道』を語るとき、アメリカには堂々と語ることの出来る事実はない。