Matsushima where we were was one of the representative scenic spots in Japan, but we had to leave for Tokyo by noon as we had an appointment with our daughter, who lived in Tokyo. I drove the car on the Tohoku Expressway for the first time and enjoyed driving my sports car under the fine weather.
  We took a rest at a rest area on the way, where an old town - of approximately a few centuries ago, I suppose - was reproduced. The wooden-like buildings in the pictures were actually built with reinforced concrete and the inside was a roofed shopping street. You might find that there were few people outside, but indeed lots of tourists were walking inside. When I arrived at the area, there were so many cars parked in the parking, but few people around. I wondered where they had gone. When I opened one of the doors of the old-fashioned houses, I understood the structure of the houses.
  We checked in at a hotel in Ikebukuro, one of the busiest districts of Tokyo. Then, my daughter got together with us and we searched for a good restaurant. One thing that came up on our radar was a Hachijojima island cuisine restaurant. We had visited Hachijojima island two years ago and I recalled their local dishes seeing the restaurant.
  I met my daughter after a long interval. So I went all out and ordered the most expensive item on the menu. Moreover, I went overboard ordering so many dishes. My eyes were bigger than my stomach. My daughter was worrying about my gaining weight from overeating unusual local foods during the trip, but she said, "I'll let you off the hook this time." (grin)
  Even though, I ate all the dishes I had ordered. I got a cheap bottle of red wine at a convenience store near our hotel and went back. I had another task tonight, which was the arrangement of the plan of the next day. The distance to tomorrow's destination was only 200km and we had enough time to wander in Kanagawa Prefecture.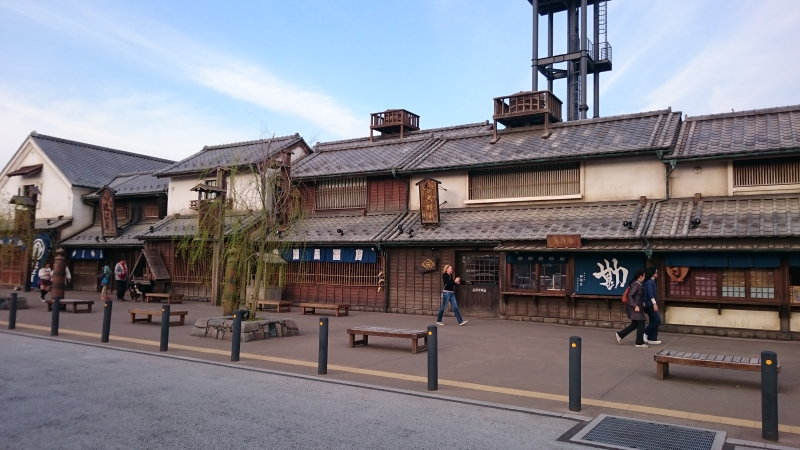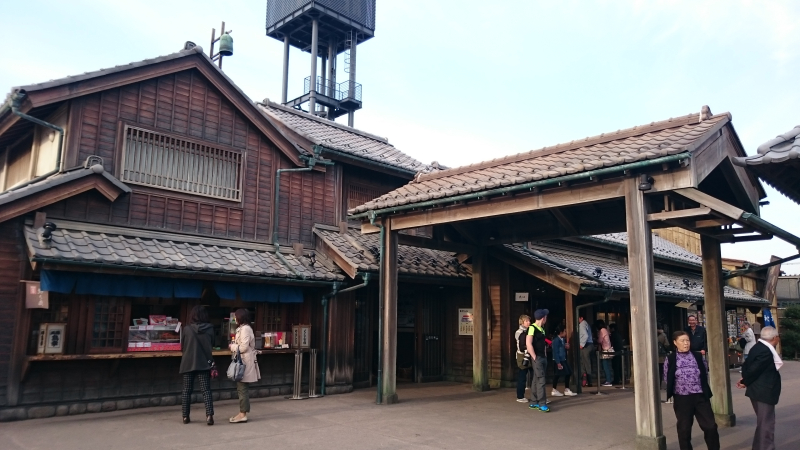 (北海道・東北旅行記 3月31日)

 松島は日本を代表する観光地の一つではあるが、昼過ぎには出発したかった。東京で娘と夕食の約束があったから。岩手から東京へは東北自動車道。初めて走る。スポーツカーの走りを堪能した。天気は快晴で快適なドライブとなった。
 途中のサービスエリアでは、写真のような一昔前の街並みを再現したレストラン、土産物店が並び、高速道路に付帯した施設ではあるが、観光地に迷い込んだような錯覚に陥った。
 池袋のホテルに旅装を解き、娘と落ち合って池袋の街を歩きながらレストランを探す。いろいろな店が建ち並ぶ東京の繁華街の一つで選ぶのに苦労した。我々の視野に入ったのは八丈島料理店。2年前に旅行したが、またその名物を食べたくなったのだ。そして娘と会うのは久しぶりで、ついつい奮発してメニューにある一番高い料理を注文してしまった。なおかつ調子に乗って食べ過ぎた。食べられると思ってついついたくさん注文してしまったのだ。旅行中、美味しい物ばかり食べて太ることを娘は心配していたが、娘からは今回は見逃すと、、、(笑)
 さて、それらを完食し、ホテルで呑む安ワインを買ってホテルへ戻った。ワインをちびちびやりながら、翌日の計画を練る。